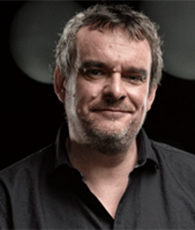 Matthew Graham
Writer, executive producer and showrunner
Matthew Graham is a writer, executive producer and showrunner working in both the UK and the US.
Matthew began his writing life at the relatively tender age of 22 writing in children's drama before taking up a post as staff-writer on BBC's flagship soap, Eastenders.
He went on to write on the seminal, BAFTA nominated drama This Life as well as on major BBC dramas such as Spooks" (aka "MI:5" in the US) and Hustle, which aired on AMC.
In 1998, Matthew created and wrote his first original piece for television – limited series The Last Train, about a group of disparate survivors in a global apocalypse, which was adapted for the ABC in the US.
This led to more original work for both BBC and ITV before Matthew co-created the internationally acclaimed hit Life On Mars which won 2 International Emmys and a BAFTA People's Award.
The sequel, Ashes To Ashes ran for three seasons and won numerous TV awards as well as cementing its lead character Gene Hunt as one of television's most exciting and popular fictional detectives.
Matthew then went on to write on two seasons of the global phenomenon Doctor Who and in 2008 he joined a small, close-knit writing team working with George Lucas out of Skywalker Ranch. Over the following two years, he helped storyline 50 episodes of a planned live action Star Wars TV series and penned 11 of those episodes. In that time Matthew worked closely with Lucas.
Since then, Matthew has been working predominantly in the States, writing and running SyFy mini-series Childhood's End, an adaptation of the Arthur C Clarke novel. Matthew exec produced alongside Akiva Goldsman and Michael DeLuca. The show was nominated for the Critics' Choice Awards. He also recently contributed a stand-alone story for Amazon Prime's Electric Dreams" alongside writers such as Jack Thorne and Ron D. Moore.
Matthew now creates and produces shows with partner Emma Frost. He has been showrunning The Spanish Princess alongside Emma – as a limited series for Starz.
In addition, Matthew and Emma are developing an adaptation of Neil Gaiman's Interworld for UCP. And they are also developing a major new drama series Judas alongside Amblin and Atlas Entertainment.
They have also started development on a major new drama series for Channel Four.
Matthew is also showrunning a solo project for Fremantle, Briefly Immortal.