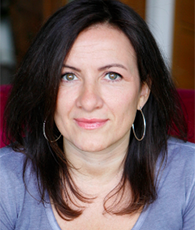 Emma Frost
Showrunner, exec producer and feature film writer
Emma Frost is an accomplished showrunner, exec producer and feature film writer, working both in the US and the UK.
She is currently writing and showrunning an 8-episode character driven thriller for Apple.
Frost's limited TV series The Spanish Princess for Starz, on which she serves as show runner/EP alongside her real life and sometime TV show running partner, Matthew Graham. The show is a follow up to Frost's critically acclaimed series The White Princes, (2017), and her BBC1/Starz coproduction The White Queen (2013), which starred Rebecca Ferguson and was nominated for three Golden Globes, including Best TV Movie or Miniseries, and 4 Emmys, including Outstanding Miniseries.
In movies, Frost recently adapted YA novel All These Beautiful Strangers for Bruna Papandrea's Made-Up Stories, to be directed by John Polson (SWIM FAN). Also for Made-Up stories, she has co-written (with Matthew Graham) Hitchcockian marriage and murder thriller As Long As We Both Shall Live.
For Lynette Howell-Taylor's 51 Entertainment she has adapted Jennifer Donnelly's dark fairytale Stepsister. Frost has written the movie screenplay Switched On for Focus Features, based on John Elder Robison's autobiographical book about Aspergers, to be directed by Sam Gold. Frost also penned the screenplay Zelda, which will star Jennifer Lawrence and be directed by Ron Howard, produced by Imagine. Next up is a movie for Netflix based on a best-selling novel.
Frost and Graham's Amsterdam-set, character driven true-crime show Judas is in development with HBO Max and Amblin. Frost & Graham's original TV drama series Exposed for Michael Ellenberg was the subject of a bidding war between multiple US cable networks and the pilot was commissioned by TNT.
Also with Graham, she is also developing a US TV show based on Neil Gaiman book, Interworld; and irreverent comedy drama Hail Satan for C4 in the UK.
Prior to this, Frost adapted Daphne du Maurier's Jamaica Inn for BBC1. Sarah Dunant, on BBC Radio 4 Front Row, called it 'terrific' 'the adaptor and director are to be congratulated'.
Frost's original BBC4 film Consuming Passion won great critical acclaim with Caitlin Moran writing 'Consuming Passion pops with focus and energy' '…wholly admirable – the kind of blue-skies thinking that's going to get us through this recession', and The Times gave it 5 stars, 'Frost's script was wickedly clever'.
Frost has written on Amazon's Philip K. Dick adaptation, The Man in the High Castle; and Sky Atlantic's The Tunnel.
She was lead writer on three series of Channel 4's multi-award-winning drama Shameless, seasons 2-5. Her Series 5 episode starring Anne Reid was the BAFTA nominated episode at the 2009 BAFTA television awards. She also worked on Julia Davis's award-winning comedy Nighty Night.
Frost has written movie scripts for Working Title Films, Sony, BBC Films and Origin Pictures. She is also a playwright and her play Airsick, for The Bush Theatre, London, received critical acclaim.
Frost graduated the prestigious WGA Showrunner Training Programme in 2016. Screen International named her one of 2009's 'Stars of Tomorrow' on their movie talent list.
Frost originally trained as a fine artist.
She lives between Falmouth, Cornwall, London and LA.